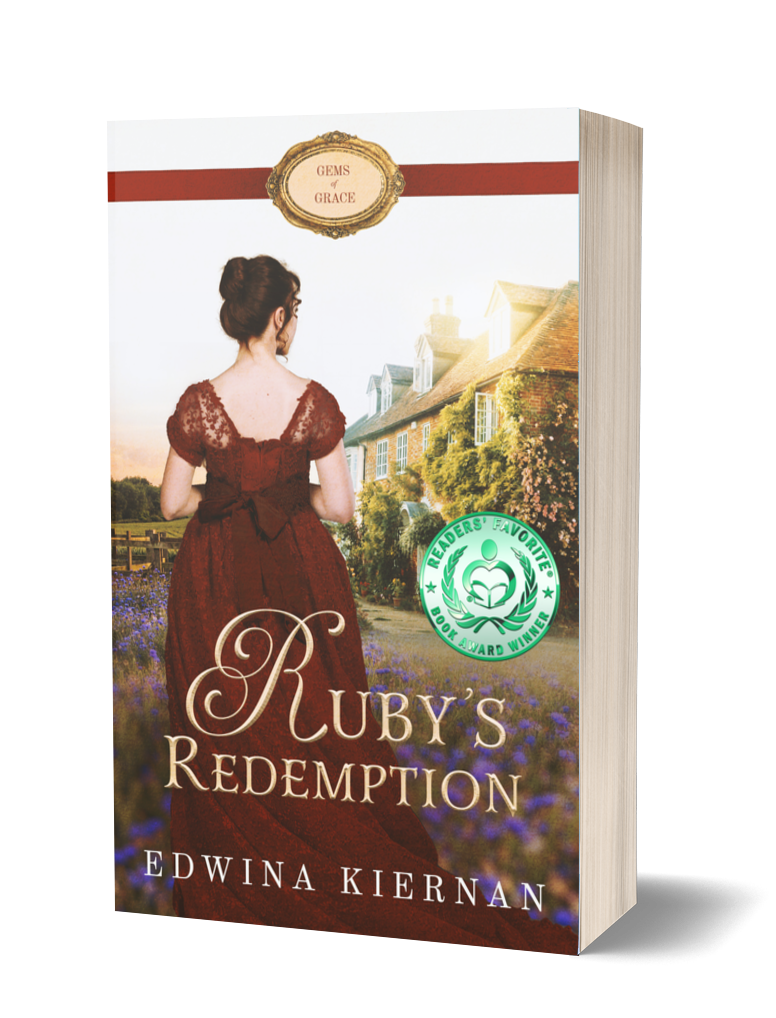 Ruby's Redemption
(Gems of Grace, Book 1)
A gentle clergyman. A broken prostitute.
A blossoming love that will endanger both their lives…
Forced into depravity by her tyrannous guardian after her parents' death, Ruby's life is one of vile deeds and violence. Unable to remember much of life outside the brothel's walls, years of despair and abuse have crushed all hope of ever breaking free from her captor's iron grip.
Until an unlikely encounter with Henry, a gentle country clergyman, sets an escape in motion that will change both their lives. But when Ruby's worst fears are realized, the uncommon pair will face more devastation than either thought possible.
As the dawning of a new life of peace and love is ripped from her grasp, Ruby discovers that true freedom has a high cost…
…but who will have to pay?
2021 Readers' Favorite Honorable Mention Award Winner (Historical Christian Romance)
Available in Paperback, eBook, Audiobook and Kindle Unlimited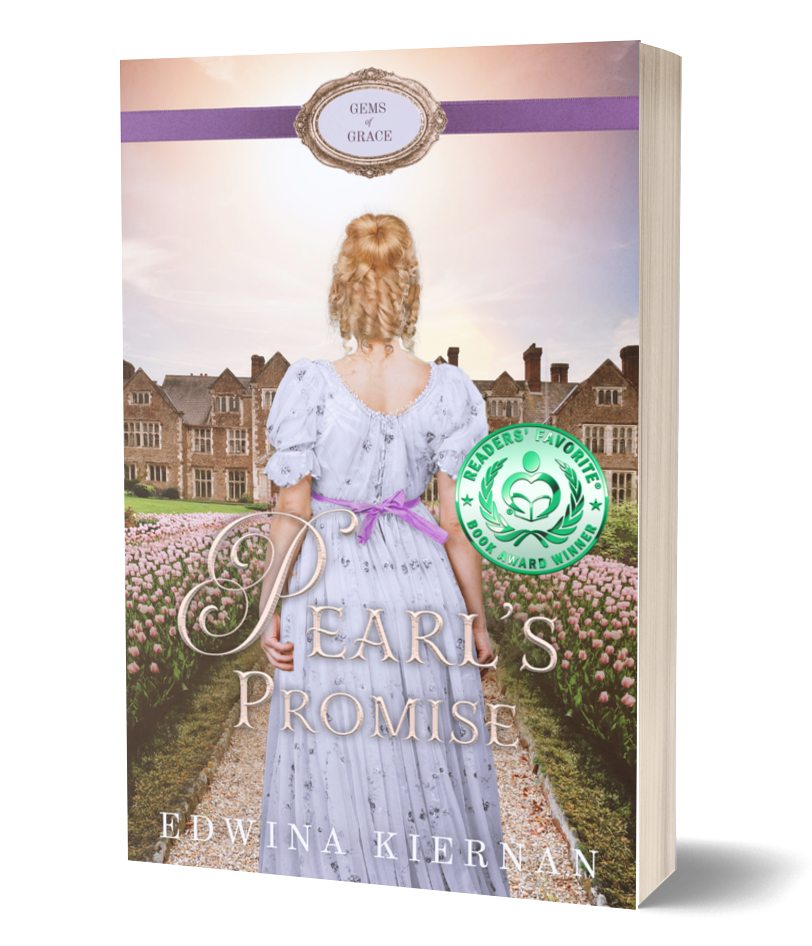 Pearl's Promise
(Gems of Grace, Book 2)
A duty-bound heir. A dejected spinster.
An encounter that could ruin both their families' demands for their futures…
Pearl Acton's worst fears are coming true. She'll be trapped in a loveless marriage—just like her parents—as her family seeks to quickly marry her off to the wealthy Mr. Clarence. Until an encounter with a quiet and soulful heir sparks a fragile hope that somehow Pearl might aid her family and marry for love.
Nicholas Dalton has always been a disappointment to his father, with his poetic soul and disorganised nature. In London for the season, Nicholas finds an instant connection with Pearl, but it would seem her future is promised to another. Or might she feel the same as he?
As Pearl and Nicholas each strive to uphold their family duties, they soon discover that things aren't quite what they seem. But is it too late to escape their crushing obligations and forge a new path — together?
2022 Readers' Favorite Honorable Mention Award Winner (Historical Christian Romance)
Available in Paperback, eBook, Audiobook and in Kindle Unlimited
Beryl's Blessing
(Gems of Grace, Book 3)
She's used to being alone. He can't get away from his guilty conscience.
Will an arranged marriage help them heal, or force them to confront long-hidden truths and new depths of despair?
Five years ago, Beryl Haywood was crippled in an accident that claimed two lives. Since then, reading and painting have been the only companions to/in her long, lonely days.
Frederick Sinclair is struggling to adapt to normality after returning from the French battlefields. A hefty weight of guilt and regret weighs on him, taunting him that he'll never be free from it.
As the newlyweds begin to wonder if love might lie ahead, a startling discovery shakes them each to the core, threatening to snatch away the future they'd begun to hope they might share…
#1 Amazon Bestseller, Historical Christian Romance
Available in Paperback, eBook and in Kindle Unlimited
(Audiobook coming soon)
Restoring Miss Hastings
(Hearts of the Hall , Book 3)(multi-author series)
Devastated by loss… a stranger takes her in.
But will her presence ruin his plans to restore all he's lost?
England, 1850.
Harriet Hastings has nowhere left to turn: after losing both her parents within a few months of each other, she is penniless and alone. So when a distant relative makes arrangements for her future, Harriet faces another loss — leaving the place she calls home to go and live with strangers.
Edmund Derringer's on a mission: to restore the family heirlooms he pawned to cover the debts of his failed speculation. The last thing he needs is to be saddled with his cousin's ward — a friendly chatterbox who intrudes on his time, distracting him from the task at hand.
But when outside forces threaten their burgeoning fondness, each will be compelled to re-examine what they really believe about one another, and what their most important goal for the future truly is…
Available in Paperback and eBook
The Letter
(Victorian Virtues , Book 1)
She wants a new life.
He's in danger of losing his.
Will love solve everything — or immerse them in even worse peril?
England, 1848.
Restless and ready for a change, Grace Stratton gladly accepts the opportunity to leave her remote parsonage home to serve as a wealthy spinster's companion in the idyllic country town of Lindenfell. Its warm atmosphere and friendly inhabitants sooth Grace's lonely heart. But when a mysterious stranger arrives, she soon discovers things aren't always what they seem.
Convinced chloroform will revolutionise the medical world, Dr. David Carbury frequently administers it to his London patients — until one of them dies. Facing a grave trial to prove his innocence and defend a drug most people view as poisonous, he makes hasty plans to buy time to bolster his case. But he wasn't expecting to face an even deadlier challenge.
As attraction sparks not long after they meet, Grace soon suspects he's hiding something, and David knows he can't run from the truth forever.
But neither of them could imagine the sinister threat lurking just around the corner…
2023 FHLCW Reader's Choice Award Winner (Short Historical)
Available in Paperback, eBook and Kindle Unlimited
A Vanishing Act
(Ever After Mysteries , Book 11)
On screen they're a darling duo, but it's a whole different story behind the scenes...
Hollywood legend Kent Selwood isn't happy sharing the limelight with rising star Stella Sanders. Tired of her diva drama, Kent makes it clear—he wants Stella gone.
Seamstress Bonnie Roseland is practically invisible to everyone at the studio, except for slick actor, Jerry Jackson — the one man she wishes would leave her alone. Her deep-rooted faith helps her see beyond the glitz and glamor to the broken realities and dysfunctional atmosphere at the studio. She sometimes wonders if God has a purpose for her there or if she should just move on.
When the studio receives blackmail letters, Kent's attitude makes him the prime suspect, and he's swiftly banished from the lot, despite insisting that he's been framed. Only Bonnie believes him — and she's confident she knows who the real culprit is.
But when a ransom note arrives after Stella goes missing and evidence is discovered that clearly implicates Kent, will Bonnie help him uncover the truth in time to save his career… and Stella's life?
Available in Paperback, eBook and Kindle Unlimited
Read the first chapter of Ruby's Redemption for free…